THE LIGHTBOX
WHAT IS THE LIGHTBOX?
The Lightbox is a place to save your favourite photos to view now or to come back to at a later date and to share with your colleagues. You do not need to register or log in to make a Lightbox, but you do need to create an account to save it to view later and make multiple Lightboxes.

  
HOW DO I USE THE LIGHTBOX?
Click on your selected photo in the gallery, the large image will then load with a 'Buy' button and an 'Add to lightbox' button at the top of the photo (Fig.1). Click the 'Add to lightbox' button to save your selected photo to your Lightbox. On a mobile device or tablet click on the photo in the gallery and then click on the menu (hamburger) icon top right to display the 'Buy' and 'Add to Lightbox' options.
Fig.1
You can then view your Lightbox by going to 'My Lightbox' in the top menu. Here your selection can be edited. You can buy prints and greetings cards straight from your Lightbox by clicking on the photo without having to go back to the Galleries (Fig 2). If you would like a price for digital photos you can request a quotation for the photos in your Lightbox  by scrolling to the bottom of the My Lightbox page and following the link. 

Fig.2
SAVING AND SHARING YOUR LIGHTBOX
To save your Lightbox for future use you can email it to yourself or a colleague and you can email it to me, click on 'Email lightbox' (Fig.2).
Alternatively, you can save it by registering to create an account. Name your Lightbox and click 'Update Lightbox' to save it (Fig.2). Once you have an account you can make and save multiple Lightboxes.
ACCESSING YOUR SAVED LIGHTBOXES
To access your saved Lightboxes go to 'My Account' or 'My Lightbox' on the top menu and you will be asked to log in.
On logging in to 'My Account' will see this screen (Fig.3). You can then edit saved Lightboxes or create a new Lightbox.

Fig.3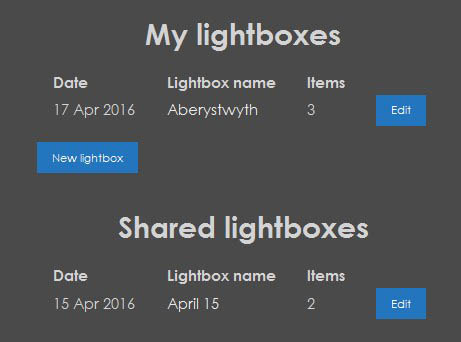 On logging in to 'My Lightbox' you will see this screen (Fig.4).
Fig.4
My lightboxes and Shared lightboxes are accessed by clicking on the drop down menu.